In yet another example of the decay of time-tested social and cultural institutions as a consequence of conservatives dropping the ball, now that Syria is put on the backburner, we get an opportunity to tackle the President's domestic agenda. But, it is a domestic agenda that has been eclipsed by foreign policy maneuvers. Although the domestic issues (budget, immigration and a federal reserve bank chairman) can return to to the forefront as a result of the President's speech to postpone a congressional vote on a Syria strike in favor of a diplomatic solution; an immediate effect is confusion and a reduction in credibility with regional allies. Fellow conservatives, have no fear: Syria will still cost the left.
Although the Obama administration's Syria media campaign provides a useful template in order to pursue his domestic policy goals, conservatives should not get their pants in a bunch. The administration has expended energy and resources to sell this foreign policy proposal, which has gotten in the way of his domestic goals. That should provide conservatives with some relief before the country gears up for the domestic battle ahead in which the standard-bearers for small government have no strategy to preserve what is left of said small government, as some of its members get boiled in kettles of controversy which threaten to take down the party from the inside.
Be that as it may, conservatives, libertarians, and other lovers of liberty and tradition (even RINOs) should not worry, because the the roadblocks and barriers to his domestic agenda are plentiful, as he turns his attention back to his plans for this country. His agenda is plain to see; the mess of problems that is liberalism is something conservatives can focus on when they challenge the left's domestic dreams.
The president faces several institutional and socio-political barriers and constraints as he turns to his domestic agenda, which should please conservatives. First, he faces a Congress controlled by a party with a faction which opposes his policies and will go to great lengths (i.e., government shutdown) and an intraparty war in order to see that his policies do not become the laws of the land. Second, while polls show that the American people want domestic policy proposals, the president is running into the possibility that he will have reduced power to enact his agenda as a result of his "lame duck" status, which increases the slope of his uphill battle. This is because a) he has devoted and diverted extensive energy and resources expended on a military intervention the American public does not want, that his party does not want, and that this Congress does not want; and, b) there is a Republican Party in control of the House of Representatives that will battle him over the budget and repeal his health care reform bill during upcoming political battles between these clashing institutional actors. While he may want to swerve toward domestic priorities, the amount on his plate may be too much for him to handle, especially as the 2014 midterm elections approach. And 2014 is where the fire that is conservative hope blazes brightest.
As the administration and the Democratic Party gear up for a midterm election that Obama has said is crucial and to which he is devoting substantial resources, the Republican Party has introduced legislation which puts the screws to the Democrats by targeting health care reform while avoiding a government shutdown, taking ground in the domestic policy debate as the two major parties react to and capitalize on a political dead ball to gain an advantage in the upcoming elections; state party Republican infighting raises questions about the possibility of a unified party that can win back the Senate and maintain the House in 2014, and a grassroots conservative movement that is active and ready to turnout in 2014; conservatives are working to replace incumbent Republicans in an effort to bring conservatives back to power in the GOP by repeating history(?) and battle this latest iteration of liberalism, the ideology they've been battling since the beginning of time.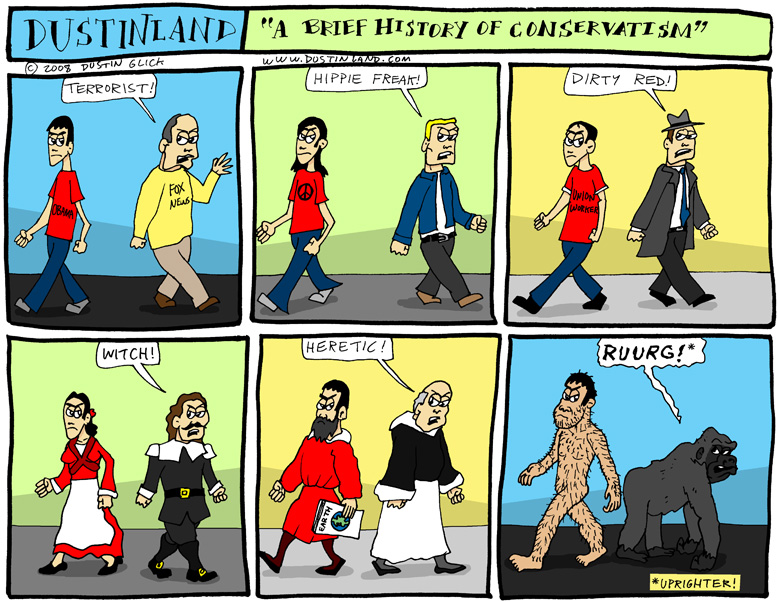 It is an exciting time to be a conservative. We are witnesses to a liberal domestic agenda losing steam as a foreign policy blunder sapped this administration and its party of the resources it needs to meet those goals. We are witnesses a conservative insurgency in the Republican Party which is pressuring establishment Republicans to vote on policy based on conservative principles and is ready to hold them acountable in November. We are witnesses to a renaissance within the Republican Party that has the potential to rekindle the lineage that extends from Reagan to Goldwater up to Taft and beyond, which will reconnect us to tradition and history so that this country can regain access to and profit from "…the general bank and capital of nations and of ages." in an opportunity to once again stand athwart history yelling stop against the liberal onslaught that continues to cause this country to aimlessly drift.
so, c'mon conservatives: let's get better!